鈴木 隆 作品展 voices
Takashi Suzuki Solo Exhibition
2020.9.29(火)~10.7(水)
開廊:12:00~19:00(月曜休廊・最終日17:00まで)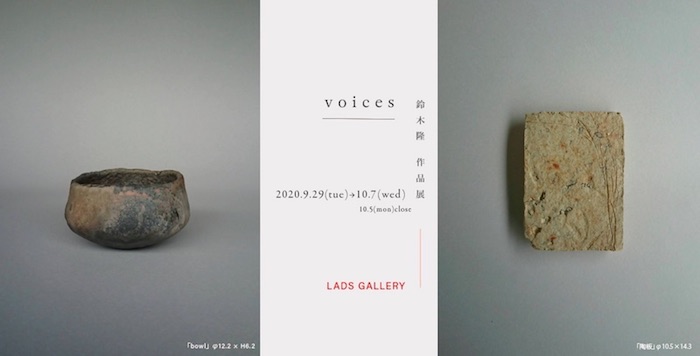 刻まれた線、埋もれた欠片

反り返る面、内から膨らんでくる形

様々な声を拾い集めて



鈴木 隆 Takashi Suzuki

1958年、新潟県生まれ。82年、伊豆大島焼の大場淳郎氏に師事。
その後、兵庫県の丹波立杭焼にて修行し、86年に京都府綾部市で築窯、現在に至る。
器、オブジェ、絵画など。

I was born in 1958 in Niigata prefecture, Japan. In 1982, I studied the making of Izu Oshima pottery under the master Oba Atsuro.
Afterwards, I pursued the study of Tanba Tachikui pottery in Hyogo Prefecture. In 1986, I established a kiln in Ayabe, Kyoto
prefecture, where I continue to the present day. My works are tabelware, figures, paintings, etc...